Dear visitors!
You are at the website of the scientific and analytical journal "Information Society", dedicated to the establishment and development of the information society in Russia.
Today, the "Information Society" journal is the only Russian edition that consistently and consecutively gives coverage to the state policy on the information society. Its materials aim to shape the Russian community of scientists, experts, politicians and practitioners that persistently study ICT opportunities for social and economic development.
Importance of our journal has grown ever higher due to the adopted Strategy of Information Society Development in the Russian Federation (2008) and the need to take further steps in implementing the Strategy, as well as due to instructions of the President of Russia to set conditions for integration of Russia in the global information society.
Journal subscribers include federal and regional authorities and local self-governments, research and educational institutions, libraries of Russia and CIS countries, non-profit companies and organizations, individual ICT experts.
This year our journal turns 30 years old – it was founded in 1989 and until 1996 was called The Bulletin of the Russian Society of Informatics and Computer Engineering. Since 1999, the journal has been published by independent non-profit organizations: the Institute for the Information Society and the Russian Academy of Engineering (registration certificate No. 015766).
Since February 2010, the journal is included in the list of periodicals recommended by the Higher Attestation Commission of the Ministry of Education and Science of the Russian Federation for publishing master's and doctoral dissertation research materials in several research disciplines.
New issue of the journal for November - December 2019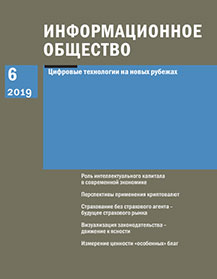 November - December 2019
Editor's word
Our friend, Numeral
ERSHOVA Tatiana Victorovna
Social and Economic Aspects of the Information Society
E-government in Digital Reality
VASILIEV Vladimir Petrovich
Transformative Role of Human Intellectual Capital in the Modern Economy
SLAVIN Boris Borisovich
Features of Development and Digitalization of Life Insurance in the Russian Federation
BRYZGALOV Denis Viktorovich, TSYGANOV Alexander Andreevich
The Digital Economy
The Ñonceptualization of the Subject Area 'Digital Economy' as the Basis for the Development of Its Terminological Framework
ERSHOVA Tatiana Viktorovna
Prospects of Implementation of Cryptocurrencies in Russian Federation
LIPATNIKOV Vitaly Sergeevich
Blockchain Software Solutions in Logistics and Supply Chain Management
MOROZOVA Yulia Aleksandrovna
"Digital Traces" and Value Dimensions of Singular Goods
BULYGIN Denis Igorevich, MUSABIROV Ilya Leonidovich
Education in the Information Society
Transformation of Educational Trajectories of MSU Masters
ZIVA Svetlana Valeryevna
Information Society and Law
Visualization of Legislation: Future or Reality?
EROKHINA Yulia Vladimirovna, SINIAGOVSKAIA Karina Andreevna
Information